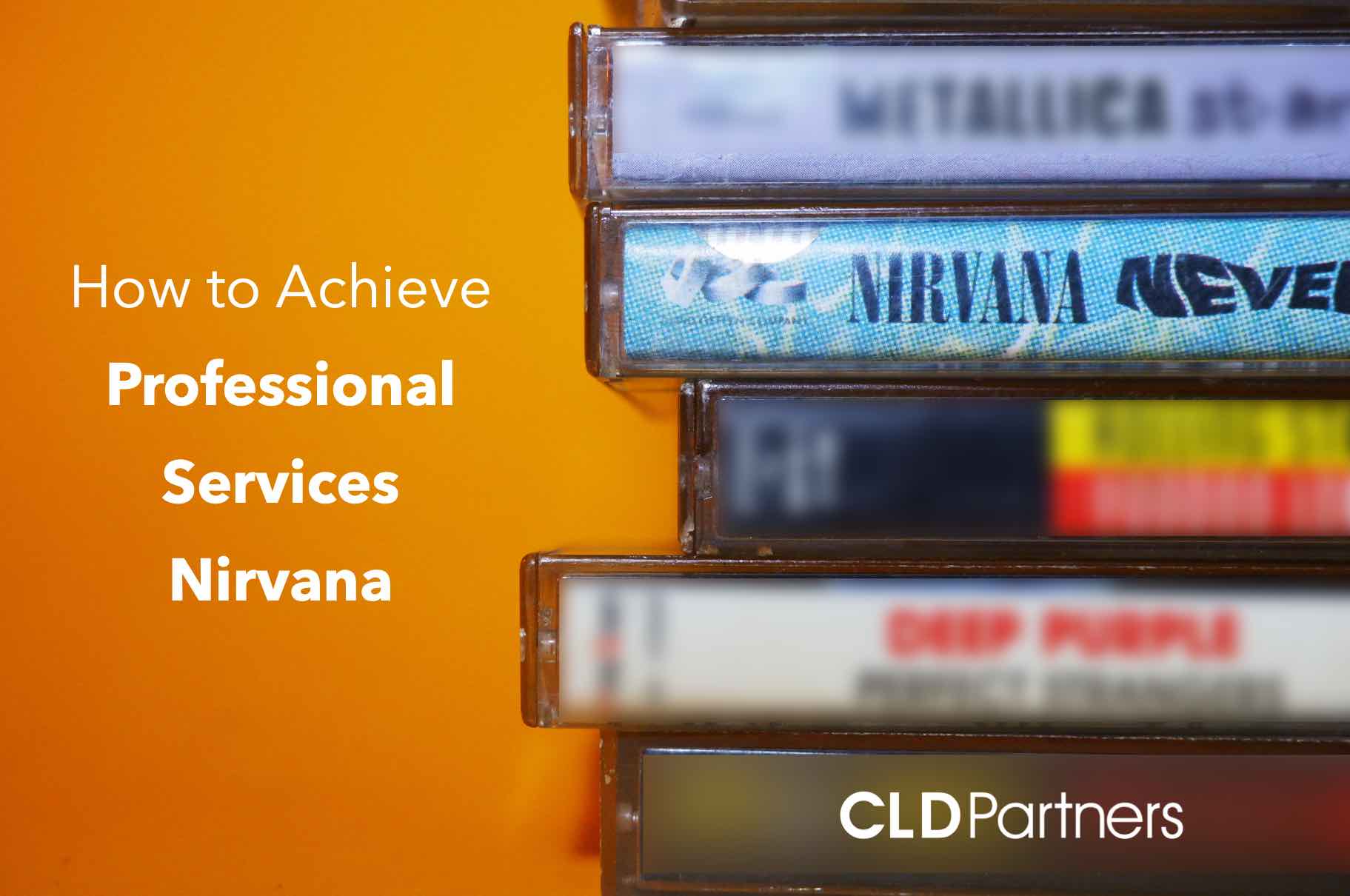 Achieve Professional Services Nirvana
After 10 years of delivering Professional Services solutions for 100+ clients, our CEO sat down with FinancialForce and shared his insights about "Professional Services Nirvana" and why organizations struggle to achieve an ideal state. We've condensed that interview into four easy-to-read principles for Professional Services Organizations.
This checklist gives a great overview or you can skip to the bottom to read the entire 3-part series.
Our CEO's checklist for achieving Professional Services Nirvana
Choose a solid platform
I've been a long-time force.com fan. With Salesforce, you can run your business from quote to cash (start to finish). So, it's easy to overcome the common struggles professional services organizations face when they are on the right platform. Plus, with Salesforce, you have a powerful analytics engine without having to send your data off-platform. (When you send data off-platform, you risk losing context because oftentimes, only summary data is sent.)
Scott Brown of FinancialForce shares a similar point saying many companies are opting for a 'no-integrations' approach and one way to do that is with a single platform. He goes on to say, "Many CIOs consider reducing their systems complexity by standardizing on a single platform with "no integrations" to be one of their highest 2022 priorities."
Close the gap between service quoting and delivery
How do you do this? First, get a quoting solution designed for professional services built on Salesforce like PSQuote. Start creating quotes for services using resource roles, rates, and hours. (Also, a good services CPQ will let you account for how you recognize revenue and factor this in at the beginning.) Then you can simply use that accurate quote to set up the project. This gives you a seamless bridge between your CRM and PSA app.
Why is it so imperative to know what was sold and see what was actually delivered? Well, it matters for a few reasons. First, it helps you deliver what the client expects (hugely important in the Professional Services world.) Second, it helps you price jobs accurately. Furthermore, it helps you estimate resourcing needs, forecast revenue and the list goes on.
Simply put, it helps you make better decisions (for your clients, for your people).
Track Revenue Allocation Properly Across Products and Services
Let's use an example to explain why revenue allocation matters. Let's say a company sells products – servers and hand-held devices for warehouse management. Along with products, the company sells implementation and support services. Upon project start, the company can invoice the client upfront for the full price of the contract. But, the company must wait until the services are delivered to recognize revenue. So, it's absolutely critical to have a system that can allocate revenue across products and services based on a standalone, fair market price for each element.
We consistently see this essential task not handled well. However, it's easy to optimize tracking revenue allocations with Salesforce and FinancialForce. If you need help optimizing your revenue allocations or just talking through options to do this on the platform, give us a shout.
Understand your Capacity and Utilization
Enterprises can miss possible revenue if there is not a clear connection between sold contracts and services delivered. In addition to that, companies need real-time visibility into when projects will finish and when key resources will be available (PSA apps really help with this). Because without that visibility, companies cannot accurately staff current or future commitments efficiently. A mark of a high-performing enterprise is actionable forecasting.
Summary
"Companies that manage the quote-to-cash cycle seamlessly and effectively use the professional services quote to inform the order, project, and revenue forecast. This logical approach drives accurate billing, revenue allocation, cost transaction calculations, and more. Then companies can recognize the most revenue possible at the highest margin. This is what I refer to as Professional Services Nirvana."
– Steve Clune, CEO, CLD Partners
Read the in-depth 3-part series published on LinkedIn:
We've helped many large enterprises through digital transformation helping many achieve next-generation services automation goals (read the Siemens case study).
Want to achieve professional services nirvana?