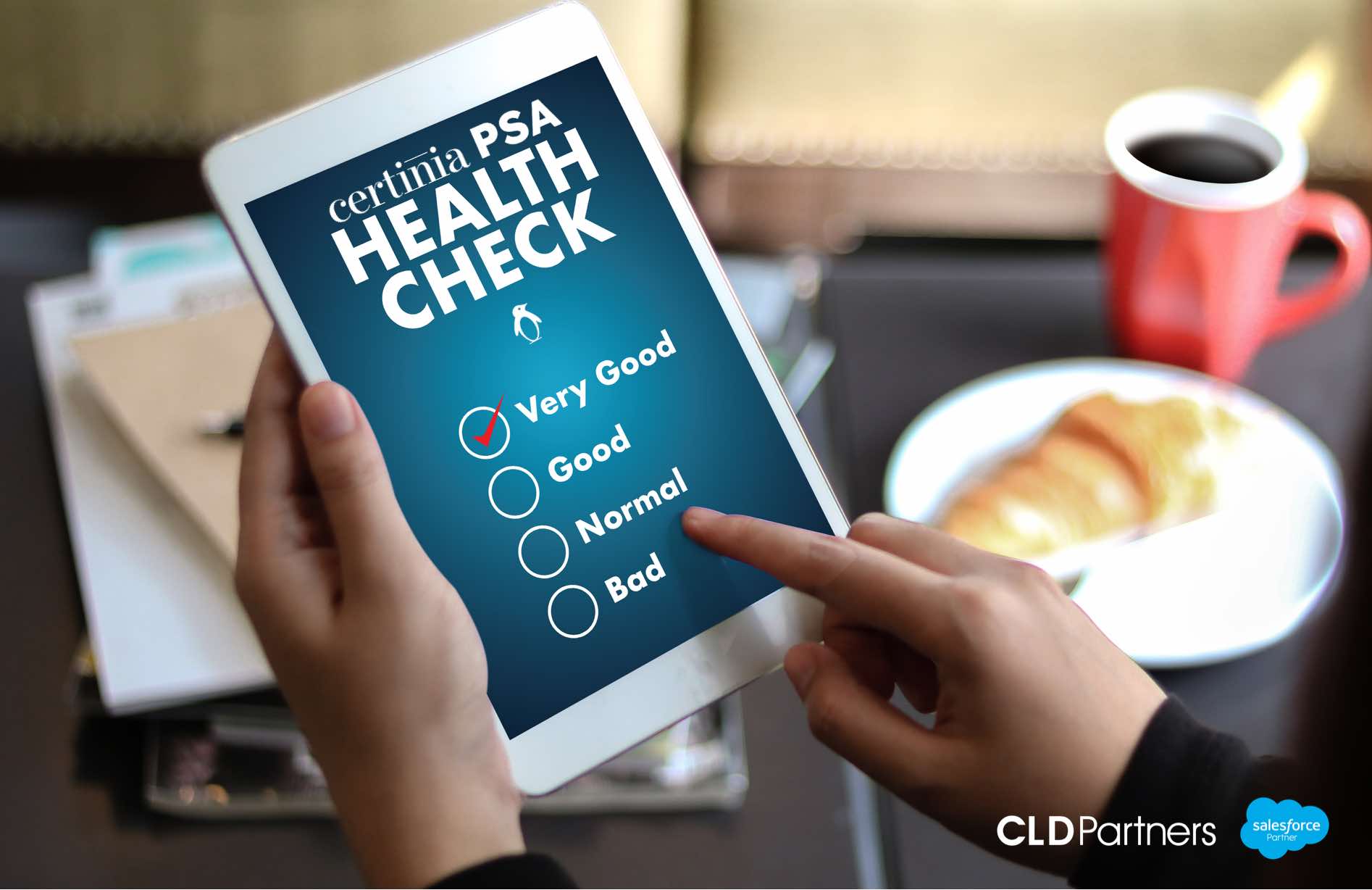 We're Listening: 3 Key Client Questions Addressed in a Certinia Health Check
When it comes to managing professional services, the Certinia (FinancialForce) PSA Health Check has become a pivotal way for businesses to gauge performance and identify areas for improvement for their professional services automation (PSA). It's also a great way for those looking to pick up where they left off and extend their implementation. During these assessments, we often hear our clients express certain common concerns. In this article, we'll delve into three prevalent issues we frequently encounter and explore proven solutions for each one.
1. "New features have come out since going live — I want to upgrade but I don't know where to start?"
We hear this often. Usually, it is also followed by "What should I test?", "We're several versions behind and our Salesforce admins are not familiar with Certinia", or sometimes, "I don't have a dedicated FinancialForce admin."  The good news is, that we can help you answer those questions. The solution below details how to go about this.
The Solution
One of the most critical steps in maximizing new Salesforce and Certinia features is understanding what's available. Salesforce and Certinia provide valuable resources to keep you informed about the latest developments. Start by reviewing the Certinia Release Hub in the Certinia Community. In particular, this hub contains Feature Overviews, Release Webinar Recordings, and Release Notes, all of which provide great insights into the latest enhancements.
Release Preview Sandbox
To evaluate new features, FinancialForce (now known as Certinia) offers the Release Preview Sandbox, a safe environment to experiment with upcoming updates. If your organization does not have one, you can request an upgrade to the latest or recent version in your company's sandbox. Here, you can test new features and configurations that streamline your company's processes, improve data quality, and enhance reporting. This is a service we really like.
Regression Testing
When testing new features and processes, it is crucial to ensure that your existing configurations and integrations remain stable. This is where having an understanding of your current processes & configuration (including integrations) becomes essential. Focus on high-impact areas and develop test scenarios that encompass both new features and potential areas of disruption. Running Apex Tests, with a focus on functional Apex tests, is recommended to verify the correct functioning of custom code.
Automated Testing via Salesforce
For larger enterprises with more complex Salesforce setups, evaluating automated testing tools might be worth considering. These tools can help streamline the testing process and identify issues faster, ensuring a smoother transition to new features. Salesforce & Certinia both offer training resources through Trailhead, which can be a great starting point. Furthermore, consider creating custom training materials specific to your organization's needs.
Get a Second Opinion
Navigating Certinia upgrades can be challenging, especially if you don't have a dedicated Salesforce administrator. CLD can provide valuable assistance in training you and your team on the latest features and creating training materials if needed. Our expertise can help your organization embrace new technologies with confidence. By working with CLD, you can ensure a smooth transition and maximize your investment.
2. "Is my implementation the best it can be?"
Usually, we hear this with:
Companies who implemented using a quickstart or smartstart model
Companies that implemented a minimum viable product (MVP) and have a backlog of tasks that reflect their full vision (e.g. items they haven't implemented yet but were part of the original full design)
Companies who've been long-time users of Certinia (FinancialForce) and haven't reviewed their solution since the initial implementation
Regardless of the use case you fall into, if you're questioning whether your implementation is optimized for Certinia PSA, keep reading. Here's how we approach this when working with our clients:
The Solution
Process Review
We start with reviewing your current processes and identifying pain points or areas that require improvement or optimization in your FinancialForce (now Certinia) solution.
Task/Feature Prioritization
Next, we create a list of development tasks, essentially forming a list of features (or "stories") that represent opportunities for improvements.
Add Priorities and Levels of Effort (LOE)
We'll assign an estimated level of effort for each story in the list (backlog) along with a priority based on what we heard from you. After the features are ranked, it provides a clear roadmap for implementation that you get to choose how to tackle.
Sprint Planning
Next, you can choose to design and implement a set of features as a project. Or you may want to slot features (stories) into future releases (sprints) for configuration, development, testing, and rollout/training based on priority and resource availability (dollars and people). You make the call based on what would be best for your organization.
Implementation/Sprinting
The implementation phase involves developing each story per the design, followed by rigorous testing, rollout, and training. Stories may encompass a range of areas, including:
process changes
system configuration adjustments
data clean-up
setting up reports and dashboards
automation
integrations
All of these areas above will help improve data quality and visibility across the organization with the ultimate goal of helping you get the best Certinia implementation.
3. "I can't forecast my services easily"
Services companies often voice their frustration with forecasting services, and the reasons behind this difficulty can vary. Some of the common challenges we've observed are:
Over-Reliance on Excel
A significant portion of our clients still rely heavily on spreadsheets for forecasting. While Excel and spreadsheets are versatile tools, it's time-consuming to manually enter data and ensure the data accurately reflects what's in Certinia or Salesforce. Moreover, later in the process, exporting data from Certinia and formatting it in Excel can be a cumbersome process if you are still relying on Excel for revenue recognition and/or revenue forecasting.
Data Configuration Issues
In some cases, you may struggle with revenue forecasting because your Salesforce or PSA data is not configured in a way that enables easy comparison between what was sold and what was delivered. This discrepancy creates a gap in accurate forecasting.
Inaccurate Schedule Data
If you struggle with inaccurate schedule data, it's possible you face additional challenges in areas such as resource management including resource availability and capacity planning. These issues are interconnected and compound the difficulty of forecasting services.
Lack of Standardization
Global forecasting can be a daunting task when processes are not standardized across regions or business units. You may find variations in how different units handle forecasting leading to inconsistencies and inaccuracies.
The Solution
The solution to these challenges varies depending on your specific circumstances. Here are two possible actions you can take:
Implement services quoting solutions: Explore services quoting or services estimation solutions such as PSQuote or Certinia Services CPQ that allow clients to perform services estimation directly on Salesforce and close the gap between sales and delivery.
Data structure and process modification: Modify data structures and processes to support a more cohesive services forecast.
Both of these options are no small task, if you go this route, it's best to evaluate your options, gather a team of invested stakeholders, and get started. If you need an external (non-biased) fresh perspective to determine options for the best way forward, CLD offers consulting services. With expert advice, you and your team can figure out what makes sense for your organization. A client recently stated that CLD is "highly consultative and not afraid to push you to make good decisions to simplify the quoting process."
Summary
In conclusion, a Certinia PSA Health Check offers an invaluable tool you can use to address pressing concerns and optimize your Certinia PSA implementation. By tackling forecasting challenges, enhancing implementation efficiency, and exploring automation possibilities, you can unlock the full potential of Certinia and achieve greater success in managing your professional services business.